Move Out Drive 2019

May's festivities are upon us and with that launches Georgetown University's 13th annual Move-Out Drive! The Move Out Drive is Georgetown's end-of-the-school-year contribution to our community and the environment, inviting you to "re-purpose your packing" by donating gently used household items to local charities. The Office of Neighborhood Life, the Office of Sustainability, GU Planning and Facilities Management, and local charity KEYS for the Homeless will work to collect your donations and give them to those living in poverty in the DC region.
Through last year's Move Out Drive, Georgetown students and the community donated more than $186,000 of in-kind goods, diverted 56,000 pounds of waste. With the University's students, faculty, staff, and community support of this initiative, we hope to give back even more this year while doing our best to keep our neighborhoods clean.
How to Participate in Move Out Drive 2019
Choose one member of your residence to stop by the Office of Neighborhood Life (1300 36th St. NW) Monday through Friday, 9 AM – 5 PM to pick up a Move-Out Drive packet for your entire residence. This will include the pink donation tags and blue bulk trash tags that are essential to participate in the drive.
Donation
Donations will only be picked up on the following days: May 8, May 13, May 15, May 16, May 20, May 21, May 23, and May 31. Donations should be in new or excellent condition; nothing stained or in need of repair. Please give families in need what you yourself would be happy to receive. Donation examples include clothing, kitchen supplies and appliances, furniture, TVs and new electronics, unopened non-perishable food, sports equipment, books, unopened toiletries, mattresses, and beds.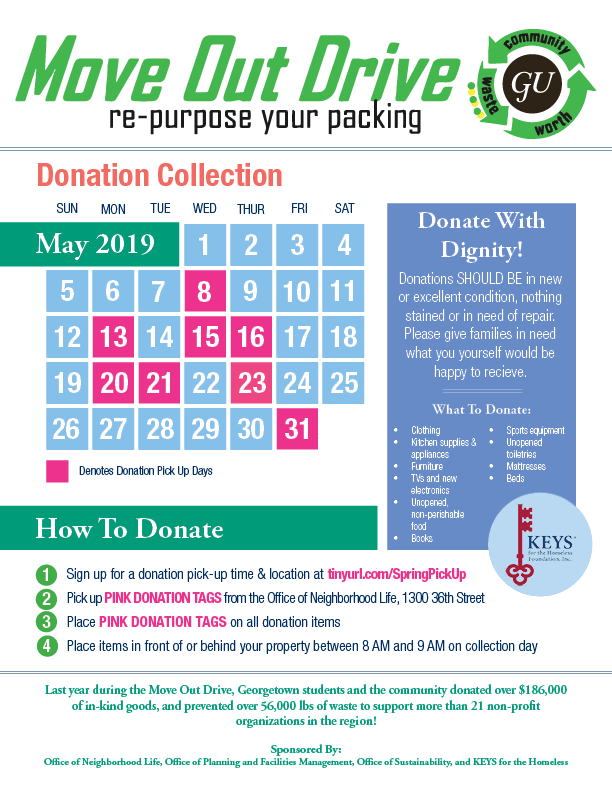 Bulk Trash
Bulk Trash will be picked up every day in May. Bulk trash includes items like stained or ripped couches, broken furniture, torn or old mattresses. Bulk trash does not include loose bags of household trash- please plan ahead and use your normal trash collection service to dispose of bags of trash. Contractor and/or construction waste does not qualify as bulk trash.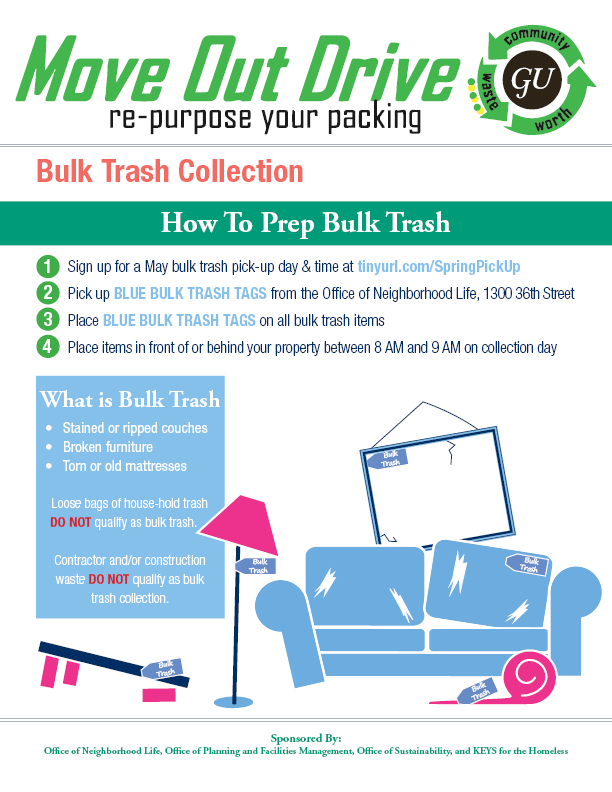 Placing Items Out for Collection
Place donations and bulk trash items in separate piles in front of (curbside) or behind (alley) your property between 8AM and 9AM on the day you signed up for collection. Tape pink donation tags and blue bulk trash tags on various items to differentiate the piles. If you are having both bulk trash and donations collected on the same day, please make it clear which items are trash and which are donations.
We encourage you to go through your property to discard and donate items earlier in May rather than later. You are not limited to one donation or bulk trash collection day, so please start getting rid of unused items early.
IMPORTANT: Each morning, ONL will send a list of properties scheduled for pick up to the DC Department of Public Works (DPW) to ensure properties signed up and displaying Georgetown University Move-Out Drive pink/blue tags on their piles of donations and bulk trash do not get cited by the city. If you do not both 1) sign up in advance and 2) mark your donations/bulk trash with Georgetown University Move-Out Drive tags, you are at risk of receiving a citation from DPW.
Sign up for a donation and/or bulk trash pick-up at tinyurl.com/SpringPickUp.
Read more about the 2019 Move Out Drive across our campus community.